2015-2016 Varsity Cheerleaders
Captain-Jaci Fulton
Co-Captain- Emily Love
Hadleigh Keeton
Karlie Sanmann
Kayleigh Brinlee
Marissa Dobbels
2015-2016 Junior High Cheerleaders
Amelia Mills -- Ellie Mosley -- Natalie Nichols -- Megan Samford
Maddie Braley -- Lexi Burkard -- Taylor Prock -- Hannah Kate Vance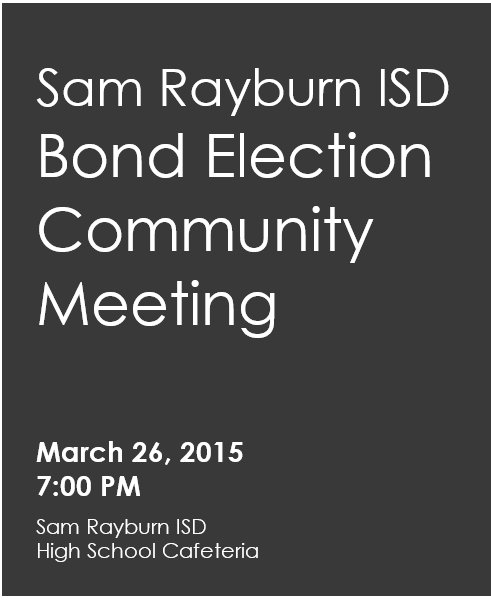 There will be a Bond Election Community Meeting on March 26, 2015
District and Campus Preformance Report Cards are now posted.
Click on this link if you would like to view the reports.
Sam Rayburn Weather is online! Click on the link
if you would like to view the new Weather Bug.
Parent use of the electronic grade book is the same as previous school years. If you had an account last year, that account is still active. Simply login with the user ID and password you used last year. If you did not setup an account last year or you are new to the district, you'll need a "portal ID" to setup your account to access TxConnect Grade Book. Call your campus office to request a portal ID number or email Wendy Keeton, wendy.keeton@srisd.org.

Once you receive your portal ID,

Click Here

to get started. This link will take you to the login page of the Parent Portal.

Click Here

for the abbreviated instructions on setting up your account.

Click Here

to read, download, or print the full 37 pages of instructions.

Contact Wendy Keeton by email wendy.keeton@srisd.org or phone at 903-664-2165 x 217 if you need help or have questions.
Sam Rayburn

ISD does not discriminate on the basis of sex, disability, ethnicity, race, color, or national origin in its educational programs or employment as required by Title IX, Section 504 and Title VI.